Create Your Own Continuing Education for Nurses
The purpose of this post is to encourage nurse educators and nurse entrepreneurs to create their own continuing education activities.
3 BIG Opportunities for Nurses:
Many states require licensed nurses to complete continuing education courses in order to renew their licenses. This = opportunities for you to:
1. EXPAND your leadership skills
2. POSITION yourself as an authority in your niche
3. MONETIZE your income.
How to Get Clear on Your Strengths and Expertise
Here's a sample of key questions I ask Nurses in my own Continuing Nursing Education activities to help you get clear on your own.
What is your nursing area of expertise?

Are there multiple areas?

Where are you the most confident?

Where do you shine?

What is your passion? What lights you up, turns you
on?

What is the problem you solve? What is your solution?
Your vocation as a nurse must revolve around your passion,
your message, and your soul calling. We all want to feel
creative.
Creating your own continuing education course IS creative!
You can create courses for any number of CEs- NCEs, but the more credits you offer- the more you pay to your board- to get approval.
My trainings, in person or online offer 10 NCEs. Several of my CYNs, Certified YogaNurses, have created courses for 3 NCEs.
WHAT TO CHARGE? Prices vary. Greatly. It all depends on the length of the activity and of course how excellent and original your content is. Fees can be from around $10 to thousands of dollars for extended, comprehensive trainings- both onsite, home study, or a combo of both.
Getting approval- ANCC + AANP + AHNA credentialing
Your local state nursing board provides info on their website on how to apply for CEs…actually NCEs (nursing continuing education) as they are approved providers for ANCC. Here is the link to ANCC to get the big picture. http://www.nursecredentialing.org
AND this THANKS to Dr Rachel Silva NP– "For Nurse Practitioners, credentialing as a continuing education provider can also be through AANP (American Association of Nurse Practitioners) at http://www.aanp.org/education/ce-accreditation/individual-program-accreditation, which generally also coincides to offer continuing education for Registered Nurses, too."
If you're a member of AHNA- American Holistic Nursing Asociation, (I am) you can also apply for credits with them. http://www.ahna.org/Education/Activity-Approval-Application

TWO SAMPLES of Continuing Ed I've Created
Check out these samples and 2 links to see how I describe my education.
1. DIGITAL Home Study– 10 NCEs
DESCRIPTION OF a Live training to HELP YOU understand the format expected- AUGUST 1-2, 2015

UNC Chapel Hill School of Nursing, NC
2. A Live On Site Training!
NOTE. You will need to partner with a nurse who is an MSN who will be your nurse planner- in the creation of your continuing education activity. If you are an MSN, you've got this.

Your nursing board will be most helpful in helping you to get approval for your activity.
Continued learning for Nurses is life-long, and with health care constantly changing, continued competency is simply a MUST.
This was a BRIEF OVERVIEW of the potential of how to do it, position yourself and what to charge to create an additional income stream.
I hope it has offered valuable insights on how you can be a provider of Continuing Ed for nurses too!
FOOTNOTES
1. "State Board Information Resource". NursingRequirements.com
This post was written as part of the Nurse Blog Carnival. More posts on this topic can be found at The Days When I'm Not A Nurse. Find out how to participate.
THANK YOU Dear Brittany Wilson, Nerdy Nurse Extraordinare!
CLICK HERE to see our host for this Carnival- and learn what other nurses have to say- http://hello-anna-and-mo.com/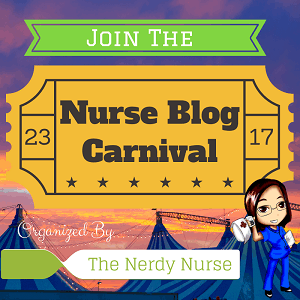 FREE GUIDE!
Get powerful curated tips on the art of nurses teaching yoga
In spirit of our upcoming training: YNYTT (Yoganurse Yoga Teacher Training), we are giving away this jam-packed guide full of wonderful curated tips that will help you become a highly effective & highly influential nurse yoga teacher.